Skip Navigation
Website Accessibility
October 2023




September 2023



August 2023



July 2023


June 2023



May 2023


April 2023



March 2023




February 2023



January 2023



December 2022


November 2022



October 2022


September 2022



August 2022



JULY 2022





JUNE 2022



APRIL 2022



MARCH 2022





FEBRUARY 2022



JANUARY 2022


DECEMBER 2021



NOVEMBER 2021
OCTOBER 2021


SEPTEMBER 2021


August 2021



July 2021





June 2021


February 2021





January, 2021


December, 2020


Diagonal Cobblestone




Two colors shown for ease in reading the diagram.




November, 2020

DIAGONAL VICTORIAN STEP
AND
SKIP A ROW DIAGONAL VICTORIAN STEP WITH TENT STITCHES OR BEADS OVER SKIPS


October, 2020
SUGGESTION: WORK 1X1 CROSS STITCHES FIRST.



September 2020
MODIFIED HELEN'S LACE WITH TENT STITCH ROWS (LEFT SIDE) AND WITHOUT (RIGHT SIDE).


August 2020


July, 2020
STEM/PACKED STEM
OUTLINE/PACKED OUTLINE
June 2020

MOSAIC FLOWER


May 2020

DOUBLE AND TRIPLE WOVEN


April 2020


March 2020

Modified Serendipity


February 2020

Diagonal Cashmere Variation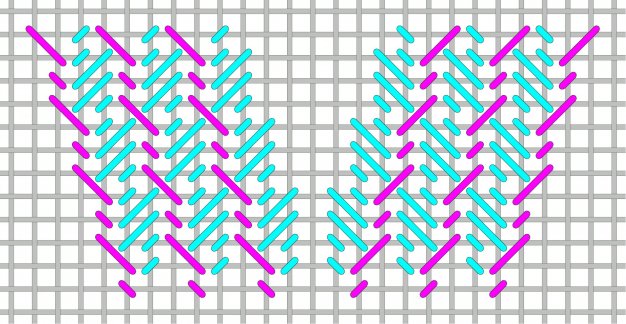 January 2020

Diagonal Bargello
Refer to September 2019's Stitch of the Month for a coordinating traditional vertical version